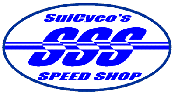 INTerViews!

Smidge VS

Music Option "Eins, Zwei, Polizei!":


About the Interviewee: Smidge VS is a dedicated I'76 hacker. His group, the VS, prides itself on breaking boundaries in hacking this game beyond its limits. All the way from Stuttgart, Germany, we dealt with many disconnects, but alot of valuable information about hacking, hackers, and what they deal with from their oppressors, can be found below.

SSS: So when did you start playing I'76?


Smidge: I started playing when the game came out here in Germany, that was about March or something...


SSS: When did you get into hacking the game?


Smidge: It was shortly after I started playing on the net.

Smidge: I entered some games and people started blowing me up.

Smidge: so I just asked them how they did that.

Smidge: Some told me directly, some gave me the legendary "How Do I..." URL...

Smidge: (Sorry if my spelling or English sucks... )


SSS: Ah yes, I remember that page too.

SSS: So what did you think of Hack 76 when it came out?


Smidge: It was very helpful because you didn't have to do everything yourself with hex from now on, but it also gave EVERYONE access to hacks...


SSS: So when did you start running into trouble with other players over hacking?


Smidge: It was just after the message boards came up, mainly the I'76 Comm. MB...

Smidge: ...before that there was just "No Hax" in the Net game names :-P


SSS: So did all the fighting start on the message boards or in the games, and exactly what about?


Smidge: I never had a real fight in a game before that, just some non-hacks insulting us when they accidentally (?) entered our game...

Smidge: But I think it all really started when the Message Boards came up


SSS: So what was the fighting about?


Smidge: It was about us Hackers ruining the game and all this shit, I think you know that well...

Smidge: Then I got some e-mails with bad words, etc.

Smidge: And after SUBLIME left the I'76 scene, I got something like Public Enemy #1

Smidge: ...but I don't care...


SSS: Why don't you care if alot of people are blaming you for things that they feel are ruining the game...


Smidge: ...because I and the other VS members (only 3 left) are since ever staying in our own games and doing our own shit there, if anyone enters a non-hack game and crashes it, I cannot do anything against it, and if this guy doesn't get his hacks from my page, he will get it from another one, I just want to say that MY page isn't the only one out there...


SSS: I think alot of the reason your getting alot of negativity from people is because you don't care WHAT they think. Typical hacker attitude. =) So do you still hack in your private games? I mean, what can the VS guys do if you are all invinicible and fireproof, when you play one-another?


Smidge: We mainly play on the net to test stuff and to talk, we're not very much into fighting ourselves, we also race, drag to test things and just have fun! And yes, we still hack. I just want to make all information availabe to everyone, and THAT'S a typical hacker attitude...


SSS: What do you think of other hackers, Like Lord Humongus and Drug Dealer, do you have some sort of Alliance?


Smidge: Not anymore, Drug Dealer and me were always in contact, I even recruited him into VS one day, but he didn't stay very long (about 2-3 weeks), then left the scene for a while and came up with his anti-hack stuff then...from now on: No comment! Except that I wanted to talk to him about this fighting shit ( I am really S.I.C.K. of it ) and he never contacted me or was visible on ICQ, straaange... about Lord Humungous: Who the hell is that? :-P Yes, heard of him...


SSS: I see. So what's your opinion on orginizations like the DMV, or rules like the AVA?


Smidge: It's ok, why not, I think it's really cool how those rules are followed, it's also well organized, but I think it gets boring after a while, and that's why the Honor Guard died, the DMV came up and Tanks/Helicopters have been "legalized"... Hey, the people want new, not the old stuff again and again...


SSS: So when the honor guard came up, was the 'hacker community' a bit miffed?


Smidge: Nope, I think not, I didn't really care about them as long as they left me alone, well, dunno what other hackers thought, but I can say that VS didn't care...


SSS: So what of more militant orginizations, such as "The Magnifecent Bastards" and "The Great Hack Jihad"?


Smidge: To be honest, at first I was a bit afraid of the Jihad, but after some time I realized that they didn't do any harm to the bigger Hack Gangs like ST and VS...

Smidge: We were just too good :-P


SSS: Why be afraid of the Jihad? Was there something about them that made them different than other gangs?


Smidge: It was because of their very militant style, they were different because they seemed a bit fanatic to me.


SSS: "The road will go slick with the blood of hacks, come here, Smidge!" hehehe


Smidge: LoL

Smidge: Go get me :-P


SSS: So rumors are abound on data encryption for I77. What do you think?


Smidge: Humm... as an example look at EVERY other online game! See what I mean? I have info that the so called "anti-hack patch" HAS already been hacked... data encryption is not really a problem, look at Ultima Online: It's a server based game, all your data is on the server, and several Origin guys are running around and booting the hackers, and believe me, they ARE busy!!


SSS: Do you have any formal programming knowledge?


Smidge: Yes, I am learning VB since about half a year and will start to program a little I'76 tool...

Smidge: ...when the new patch comes out.


SSS: So how come you have never been interested in using the DMV or AVA rules for a change?


Smidge: Why should I use them? They're not official, and if I want to play non-hacked, I play how I want and I also use the configuration I want and don't care about the AVA or DMV rules then, because the minimum hack config on my car are always some paint and tires...

Smidge: =)


SSS: So do you ever go into games with your hacked cars and terrorize non hacked players, and what do you think of other hackers doing this?


Smidge: I don't do it, I never did it and if there are non-hacked cars in a game with "Hacks" in its title ( this also happens! ) and tell me to leave, I do so immediately, and so do the other VS members and many other Hackers/Hack-Users I know... If another Hacker does that, I don't support it because these people are stupid idiots who just want to start a fight and show the people how mighty they are...

Smidge: ... or want to be.


SSS: Ahhh!

SSS: Now I have to restart my sentence.. grin


Smidge: < LoL >


SSS: So when you founded the VS, what were you hoping to achieve? And why the big "NO Vigilantes Paradise" on the website?


Smidge: The original founders of the VS were CoolDaddyO and XxJokerxX and they wanted to create an I'76 Hack Community... This didn't realise, and the intention of me and The Flash is now simply to HAVE FUN and HACK ALL OVER the fuckin' place hehe... sorry... Umm... VP, yes, you surely know Jim Kurleto, the first host of VP, he was one of the coolest guys, I sent him screenshots and new links, we talked and wrote e-mails all the time and he knew I was a hacker, but he didn't give a shit about it, we were just good friends... Suddenly all the Hack links have been taken down from VP and there was a big Anti-Hack links section up... I e-mailed him --> no response... Humm... I repeated that some times and then just got sick of his new attitude, I always thought that VP was a place for both hackers and non-hackers, but he screwed it all up! And I HATE him for that now. I also think that this is one of the origins for the fights!


SSS: So all of a sudden Jim turned on you?


Smidge: Seems like, he never responded again... and if yes, he turned on all hackers and hack-users...


SSS: So with the Vigilante Stalkers, what was your plan, to terrorize Vigilantes Paradise?


Smidge: NO! As said, we wanted to hack the game to it's limits (which are NOT reached already, DD!) and have fun! I set up a campaign against VP first, many people supported me, but then I realized that it was way too militant and Covak took VP over ...

Smidge: The "No VP" is just a leftover...


SSS: And so with the original webmaster, gone, there wasn't any point in bothering with it any longer, correct? What was your relation to SUBLIME?


Smidge: I left it up because of the "Support Hacks"...

Smidge: Yes right...SUBLIME was a good friend of mine, we did many things together on the net and it was a shock for me when he lost his page and job. I know he was a bit fanactic :-P, but he was cool, now he left the scene and plays Quake or something...


SSS: Was he part of the Vigilante Stalkers also?


Smidge: Nope, he founded his own gang long ago, I don't remember the name...

Smidge: Ah, A-VG


SSS: So let's say your playing on the main server, and an anti-hack person jumps in your game with every type of flame weapon imaginable. What do you do?


Smidge: I stop, let him get to me and fire all his weapons until he got no ammo left, if he doesn't leave then, I blow him up and laugh at him...


SSS: I think alot of ANTI-hack players feel the same way, only in the opposite situation.


Smidge: I already said what I think about hackers entering non-hack games...


SSS: You are German, is the VS a 'German-Only' orginization or is it pretty much for anyone that is cool with the VS?


Smidge: The VS (Vigilante Stalkers) is open for everyone, but the restrictions for getting in are now alot higher than before, we also booted many members lately, there are now only 4 left...The Flash who is our leader and team advisor, Time Bomb is the lead hacker, Me as manager of events and hacker, and Macros who does graphics for VS (he doesn't play very much)...So the VS currently consists of 50% Germans, because Macros is also a German, he lives about 200m away from my house hehe, we can plan many things better and we are currently beta testing HC1, the new hack patch from BiGfReEk (greets!)...but principally, everybody can join VS if he/she (yes, a girl also wanted to join some time ago) brings a certain skill with him/her...

Smidge: (Her name was Samantha and yes, I TRIED to get a pic...)


SSS: Ah you never know over the internet man...I hear horror stories about that stuff...


Smidge: ?

Smidge: 'Bout what?

Smidge: Girls?

Smidge: Ah yes...


SSS: You know, some 'girl', tries to do some cyber-sex, turns out to be a guy...(interviewer shudders)


Smidge: Yuck!


SSS: (Interviewer emits hollow laugh)

SSS: So are there still many hacks left to discover?


Smidge: Yes, there are!


SSS: Is there really a shotgun in the final release, hidden somewhere?


Smidge: No comment.


SSS: Any last words to say to other hackers, or those learning how the hell to use hex workshop and all?


Smidge: To those who really hack: Keep up the work; To those who use hacks: Don't do shit with our work; To those who don't Hack: I am tired of this fighting shit...OUT!!